Description
For ANZ eGate Merchant Account information please visit: http://www.anz.com/small-business/products-services/merchant-services/internet-payment-solutions/egate/
If you run an online business, ANZ eGate is the ideal 'Card Not Present' payment solution for you. Processing Australian and New Zealand Currency.
The ANZ eGate plugin extends WooCommerce allowing you to take credit card payments directly on your store via the ANZ eGate payment processor in AU currency. It's suitable for small to large businesses wanting to perform online transactions where the card is not present.
This plugin offers Bank Hosted [3-Party] and Merchant Hosted [2-Party] processing.
Bank Hosted is where the website customer is directed over to the banks secure payment page to enter their Credit Card information, once the transaction is complete, the customer will be directed back to your website.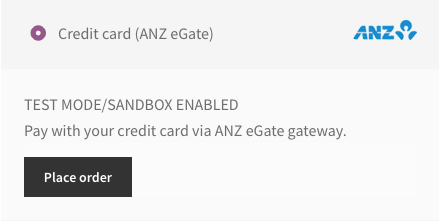 It provides an easy and convenient payment gateway for you to accept and process secure credit card payments from your online sales. ANZ eGate can be easily integrated with an existing online store or system.
Extensions tested on a Single Site Installation, multisite installations not recommended.